Each NFL team has its own set of strengths and weaknesses. Obviously teams strive to be at the top of the league in every aspect of the game. That is easier said than done.
Offensive gurus have their own style they believe will lead their respective teams to victory. A ground-and-pound run game versus an air-it-out mentality. A plethora of playmakers to out-talent the opposition or more of a sleight of hand approach to cause misdirection.
In this piece, we take a look at the air attacks, specifically the top five wide receiver duos in the NFL.
1. Tampa Bay Buccaneers – Mike Evans & Chris Godwin
Last season both Godwin and Evans flourished in their respective receiving games. Evans may have had a down year in 2019 when it came to receptions (67) and yardage (1,157) compared to 2018, but he still matched his touchdown total from the previous year with eight. He also started three less games and came just under 400 yards from his stellar 1,524-yard 2018 campaign.
Godwin broke out last year with 86 catches for 1,333 yards and nine touchdowns. After posting his first career 1,000-yard season, Godwin is looking to repeat his success. And why not? The Bucs were able to replace Jameis Winston with THE Tom Brady. When there are talented playmakers like Godwin and Evans at Brady's disposal, all he has to do is get them the ball. Brady is still plenty capable of leading the NFL's No. 1 receiving duo to an incredible season.
2. Atlanta Falcons – Julio Jones & Calvin Ridley
Staying in the NFC South, Jones and Ridley will look to produce great results with Matt Ryan in Atlanta. Jones caught 99 passes for 1,394 yards and six touchdowns in 2019. Sporting a 14.1 yards per catch average, Jones gives the Falcons a first down on nearly 80% of his receptions.
Ridley, meanwhile, is primed for his first career 1,000-yard season in his third year. Ridley's 63 catches, 886 yards and seven touchdowns in 2019 stayed pretty much in line with his rookie year performance. But expect Ridley to step up his production in 2020 in the absence of tight end Austin Hooper, who takes his 75 catches with him to Cleveland. The Falcons also lacked in the running game last season, and the addition of Todd Gurley should take attention away from their stud wideouts.
3. Seattle Seahawks – DK Metcalf & Tyler Lockett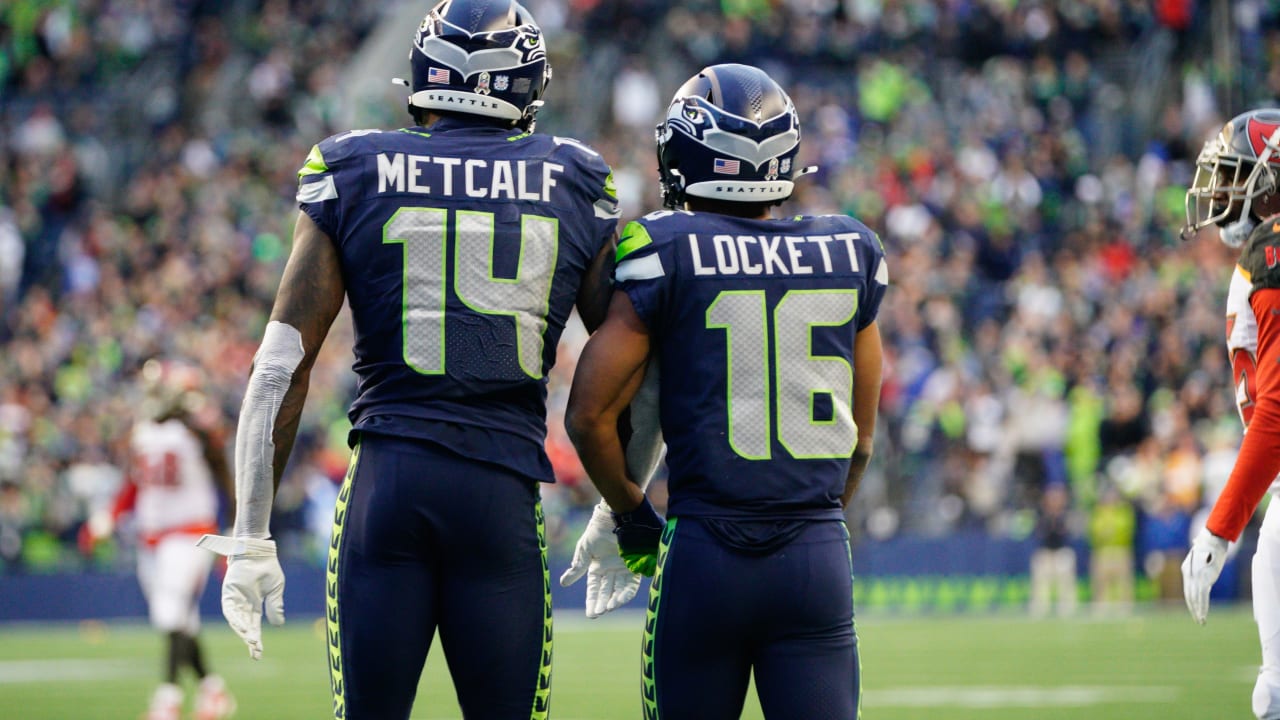 Metcalf and Lockett emerged as stud receivers in their own respects in 2019.
Metcalf posted solid numbers as a rookie with 900 yards on 58 catches leading to seven touchdowns. What is a little concerning is the 58% catch rate and the sub-four receptions per game. With Russell Wilson a career 64.5% passer, the low catch rate can probably be saddled on the shoulders of Metcalf. The rookie will be looking to improve his catch rate and be a weapon for the Seahawks in 2020.
Lockett stepped in as Wilson's clear No. 1 in 2019 with 82 catches for his first 1,000 yard season and eight touchdowns. His catch rate did drop from 81% to 74%, but that is liable to happen when your target total increases by 40.
4. Cleveland Browns – Jarvis Landry & Odell Beckham Jr.
The Cleveland Browns story has been nothing short of just plain hopeful. The duo of Landry and Beckham created a lot of buzz and excitement entering the 2019 season, but the wind in the sails soon blew away.
Landry stepped up in the Browns receiving game when his former college teammate at LSU could not. Landry upped his yards per game to 73 on the way to 1,174 yards and six touchdowns.
OBJ's first year in Cleveland was overhyped, but he was still able to produce solid numbers, posting over 1,000 receiving yards on 74 receptions. It is a far cry from his New York Giants days, but the numbers he and Landry produce land them in the Top 5 receiver duos.
Baker Mayfield's completion percentage has to be better for Landry and OBJ to produce better results in 2020.
5. Detroit Lions – Kenny Golladay & Marvin Jones
Kenny Golladay is an absolute force and the closest thing Detroit has seen to Calvin Johnson since his early retirement. Golladay may have had a 56% catch rate in 2019, but he still reeled in 65 catches for 1,190 yards and a career-high 11 touchdowns. Sporting 18.3 yards per catch makes up for the volume of missed targets, but with a QB like Stafford accuracy has to be a bit better.
Marvin Jones is a bit of an anomaly in the aspect of production. In his first year with Detroit (2016) his output was almost exactly the same as it was in the year prior with Cincinnati (2015). He then exploded with over 1,000 yards and an 18 yards per catch rate with nine touchdowns in 2017.
Injuries have been a bit of an issue for Jones the past two seasons, only participating in 22 games between 2018 and 2019. But he was able to up his catch rate last season to 68% and found the end zone nine times while gaining 779 yards through 13 games.
Honorable Mentions
Kansas City Chiefs – Tyreek Hill & Travis Kelce
Kelce being a tight end and not a wide receiver lands this duo in the honorable mentions.
But coming off a Super Bowl win, it is impossible to ignore what Hill and Kelce provide for MVP Patrick Mahomes. Hill had a down year in 2019 after a career year in almost all categories in 2018. Hill is still a top speedster in the league and posted more human-like numbers with 58 catches for 860 yards and seven touchdowns. Hill's ability to absolutely burn the defense and catch the long ball is handy when you have a quarterback like Mahomes who can throw it a mile downfield.
While Hill draws the defense back, Kelce is the guy catching the passes underneath and in the middle. His 97 catches for 1,229 yards with six total touchdowns (including a rushing td) helped Kelce to a fourth straight 1,000-yard season.
Arizona Cardinals – Deandre Hopkins & Christian Kirk
Deandre Hopkins found his way over to the Cardinals via trade and is sure to set the NFC ablaze.
In the past 2 seasons, D-Hop has not dropped below triple digits in receptions and being the reliable receiver he is, second-year Cardinals QB Kyler Murray probably will not let that happen. Arizona passing attack in 2019 may not have been great, but it worked and with Hopkins in the mix, it is sure to be that much better. D-Hop will look to build off of a 104 catch, 1,165 yard, seven TD season in Houston in 2019.
His new sidekick in Arizona, Christian Kirk, will be holding his own. Stepping up in a major way last season, Kirk is sure to be the guy opposite Hopkins. Catching 25 more passes on 40 more targets than he did in 2018, Kirk also matched his touchdown total (3) and amassed 709 total receiving yards in 2019. In a clearly struggling offense, Kirk was a small bright spot outside of Kyler's dual-threat capabilities.